Highest Quality of Sod
Greatsoil is proud to carry Genuine Marathon Sod, grown for Southern California's soil and climates. We are happy to assist in your selection of the best sod for your needs, as well as the appropriate soil base selection. The chart below offers a starting point when selecting sod for your specific needs. You may contact us to set up an order.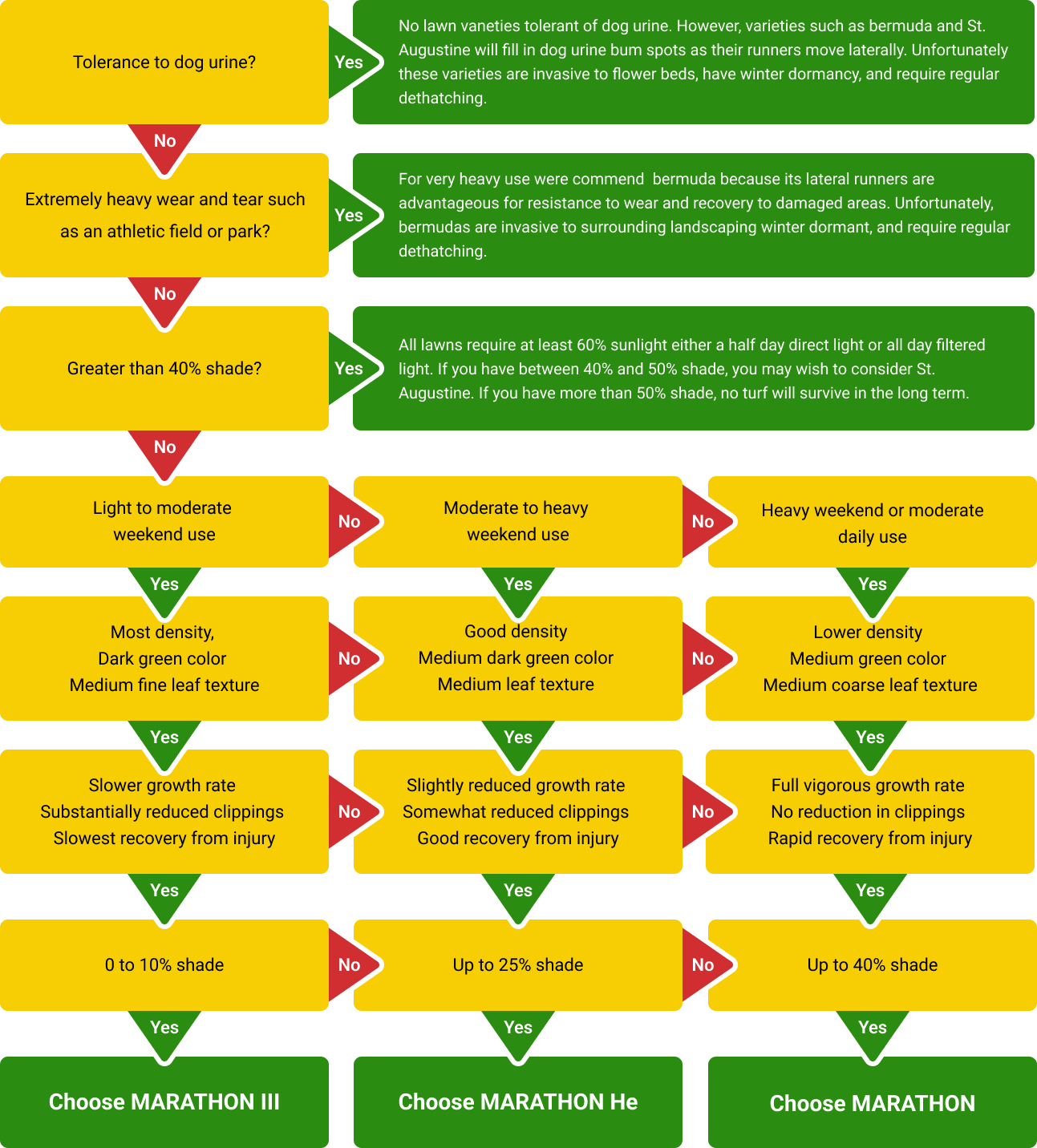 Reasons to Choose Genuine Marathon Sod
High-quality sod
Marathon is a thicker, finer, and more uniform turf with a natural dark green color all year round. We never use dye to cover weather damage, production shortcuts, or genetic flaws
Marathon is comprised of proprietary grass varieties, which have been bred specifically for adaptability to Southern California climate and soils
Marathon is produced under ideal growing conditions in coastal Ventura County using sophisticated high-tech production techniques, including patented equipment
Freshest sod
Only Marathon Sod is vacuum cooled before shipment to prevent spoilage prior to installation. All sod is at the installation site less than 24 hours after harvest
Most reliable and convenient delivery
Marathon have more trucks on the road than any other sod farm. That means, our fleet can spread out to cover the entire Southern California region with individual trucks assigned to serving small areas of local communities, ensuring that everyone in the area gets their sod on time
Marathon all-terrain forklifts can place the sod at the most convenient locations for easy installation
Guaranteed for one full year
If any of the sod dies after meeting minimum care requirements, we will provide free replacement sod
Homeowner help
Marathon stand behind our products with a toll-free "homeowner helpline" and field representatives. Every effort is made to answer questions or solve problems, including supplying replacement sod per the guarantee. We want you to tell your friends how happy you are with your lawn and our company
We are Southern California's Largest Sod Grower
Marathon family owners have been growing grass longer than any competitor. We know what we are doing, and we will be here if you need us
We have the largest distributor network
Marathon's proven reputation for beauty and durability
That's why it is southern California's most popular sod with over 2 million lawns delivered. It is the only choice of quality-conscious professional landscape contractors. Why take a chance on lower quality sod just to save a few cents per square foot?